50t block handler FDM798T-50
Brand:Fuda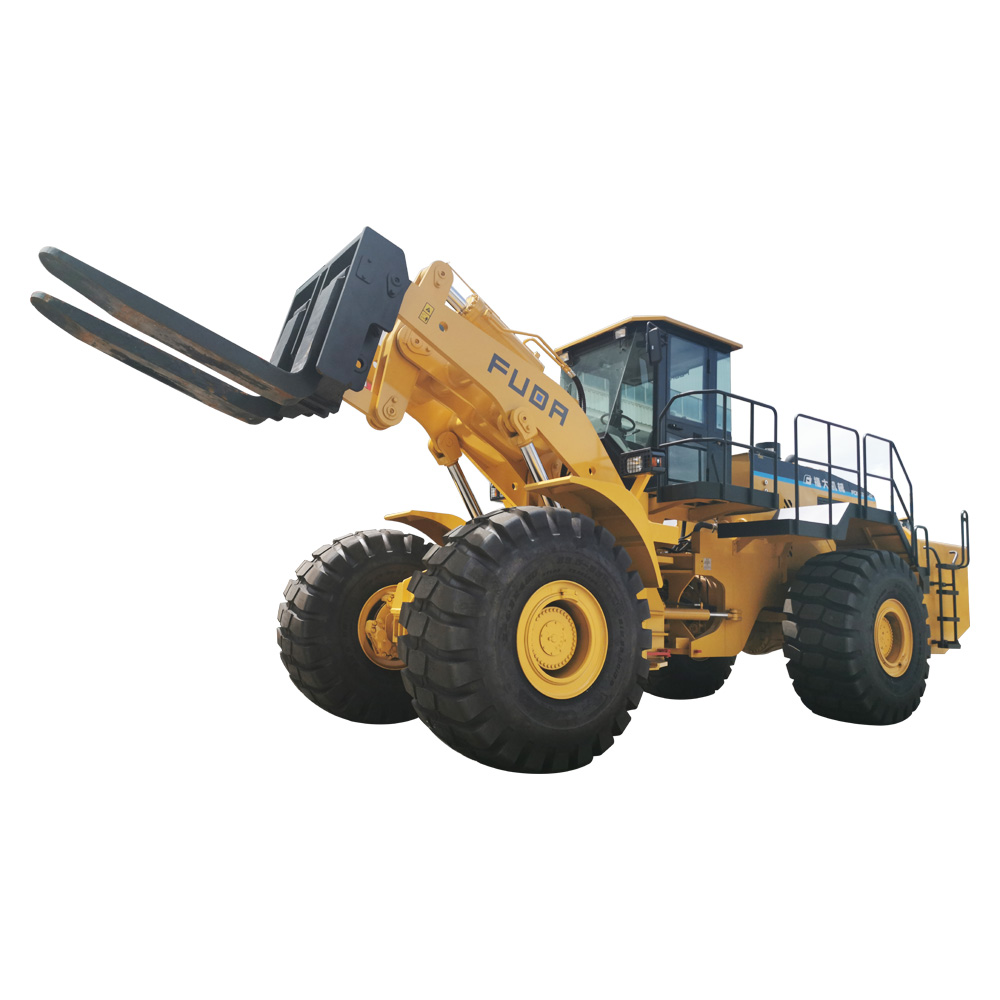 Product type : FDM798T-50

Product load : 50 tons

Lift height : 3000mm

Product description : 50 ton block handler is mainly used in marble mines as well as in marble loading and unloading trucks and handling operations.
50t block handler FDM798T-50 Description
Block handler FDM798T-50 has the maximum loading capacity up to 52 ton when the lifting height is no higher than 500mm and rated loading capacity up to 50 ton when the lifting height is no longer than 1500mm. This loader is mainly used in marble / granite quarry, docks for stone, container and pallet handling.
Advantages
1. Equipped with high quality 370hp Cummins engine to ensure high torque reserve and low fuel consumption.
2. Equipped with CAT technology countershaft transmission that provides high transmission efficiency and low operation noise.
3. Fitted with super loading drive axle with maximum static loading capacity of 110,000kg.
4. Super long wheelbase and steel structured framework ensure the loader more stable.
5. The pilot control system and hydraulic steering system with flow amplifier make the loader flexible and convenient in operation.
6. Patented strong lifting arm with 8 link rods can make sure heavy lift more stable and safe.
7. Equipped with fork and bucket for both use.
No
Item
Unit
1
Engine
hp
370 (Cummins)
2
Tire
29.5R29
3
Overall dimension
mm
10300×3620×4100
4
Rated load
kg
50000
5
Self-weight
kg
46000
6
Load center
mm
800
7
Max. load (lift height≤1500mm)
kg
50000
8
Max. lift height (fork)
mm
3000
9
Wheelbase
mm
4600
10
Min. ground clearance
mm
530
11
Hydraulic cycle time
s
24
12
Turn angle (Left/Right)
(°)
30/30
13
Fork tilt angle (Front/Rear)
(°)
23/15
14
Grade ability
(°)
18
15
Fuel tank capacity
L
400
16
Hydraulic oil tank capacity
L
370
17
Travel speed
F
km/h
22
R
20