50t block handler FDM798T-50
Brand:Fuda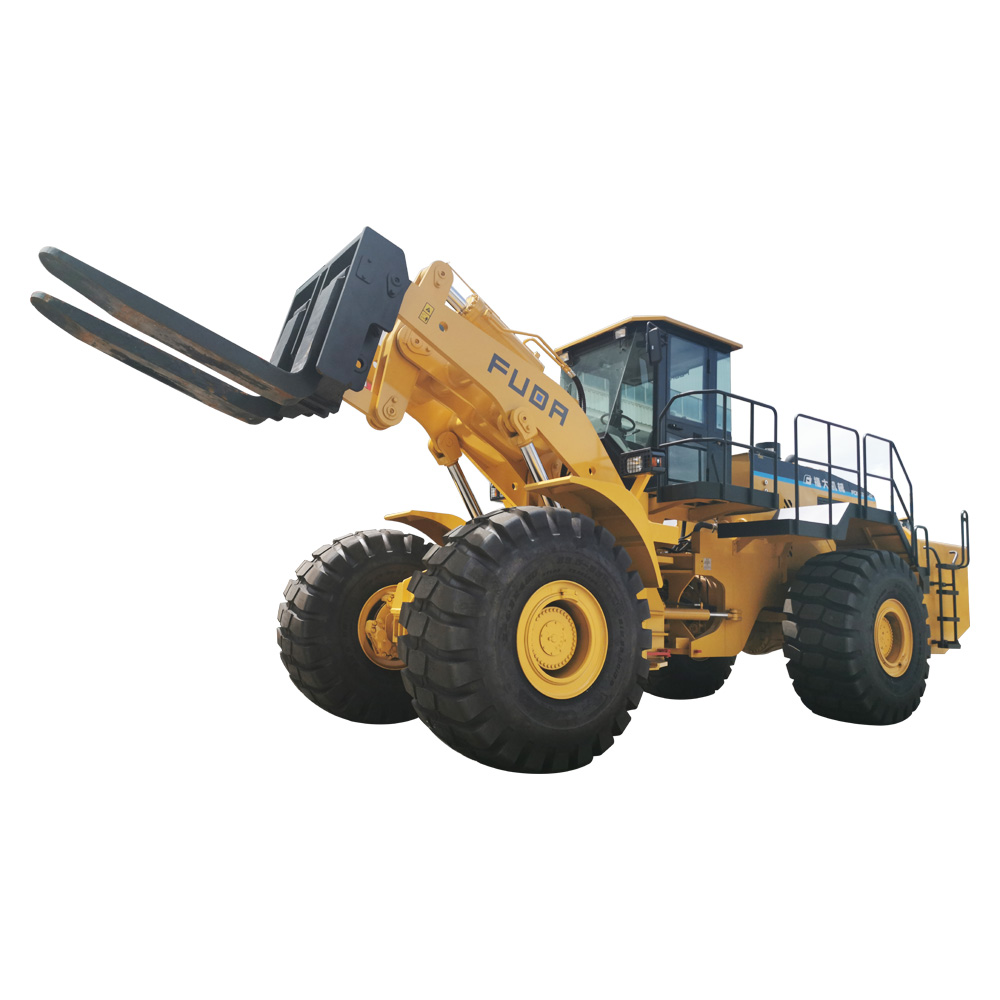 Product type : FDM798T-50

Product load : 50 tons

Lift height : 3000mm

Product desc<x>ription : 50 ton block handler is mainly used in marble mines as well as in marble loading and unloading trucks and handling operations.
50t block handler FDM798T-50 Description
Mainly used in marble or granite quarries or stockyard for block loading, unloading and stacking operations.
Suitable for complex working conditions, the FDM798T-50 block handler is particularly offered for easy material handling. The maximum lifting capacity can be as high as 52 tons. Therefore, it helps users reduce the labor intensity and labor cost to the greatest extent.

This range of all terrain telehandler adopts fixed-shaft transmission and high universality components for easy machine maintenance. The key link joint uses dustproof structure with outstanding tightness. In addition, the fork tooth has optimal abrasion resistance, which makes for the long lifespan of the block handler.
Features
1. The heavy duty telehandler is driven by four wheels. It has strong gradeability for the large departure angle of the balance weight and the strengthened drive axle with maximum static loading capacity of 110,000kg.
2. Its chassis is high from ground, making it possible for application in complex working conditions.
3. The single rocker Z shape reversal link mechanism and the optimized working device are conducive to big loading and lifting capacity.
4. The key components adopt finite element analysis method, featuring powerful carrying capacity.
5. Our telescopic forklift is installed with ultra-long wheel base and strong frame, achieving easy stockpiling. The maximum lifting height reaches up to 3000mm.
6. In case equipped with bucket, this wheel telehandler can be used for land levelling, as well.
7. Apart from high safety and convenient material handling, this rough terrain forklift provides broad vision angle for the drivers. In addition, the flexible bi-directional absorber creates comfortable driving environment.
8. It adopts turbocharged engine, which is distinguished by strong power and big torque reserve.
9. The steering gear for the steering system is capable of magnifying coaxial gas flow.
10. The paper filter element ensures the cleanness of the hydraulic system. More importantly, it reduces the failure rate of the hydraulic element and extends the product lifespan.
11. For adaptation to poor working conditions and big loading capacity, the forklift loader employs 29.5-29 46PR tubeless tire for front and back wheel, respectively.
12. The hydraulic oil cooler serves for maintaining good thermal equilibrium of hydraulic system.
13. Apart from the special CAT technology countershaft transmission, the car backing alarming system makes for high safety and reliability of the wheel loader.

14. Equipped with pilot joystick, air conditioner and luxury seat.

Optional
1. 370hp Cummins engine;
2. American Parker plunger pump, valve, oi tube and Advance ZF technology fixed-shaft multi-speed hydraulic helical gear transmission with speed and torque variable combined as integral, electrical-hydraulic controlled;
3. Quick release attachment
4. Bucket
5. Tire chain
6. Hydraulic brake system
7. Weighing device
No
Item
Unit
1
Engine
hp
335 (Weichai WD12G336E211)
2
Tire
29.5R29
3
Overall dimension
mm
10450×3480×4100
4
Rated load
kg
50000
5
Self-weight
kg
48000
6
Load center
mm
800
7
Max. load (lift height≤1500mm)
kg
50000
8
Max. lift height (fork)
mm
3000
9
Wheelbase
mm
4750
10
Min. ground clearance
mm
520
11
Hydraulic cycle time
s
24
12
Turn angle (Left/Right)
(°)
30/30
13
Fork tilt angle (Front/Rear)
(°)
23/15
14
Grade ability
(°)
18
15
Fuel tank capacity
L
330
16
Hydraulic oil tank capacity
L
370
17
Travel speed
F
km/h
33
R
20